"I've tried other services, but yours is consistantly up-to-date where others are not."
read more
---

10 counties in NY
Over 85,000 listings
Updated daily
Direct from courthouse
Many ways to search
Easy to use
Mailing label program
Special Realtor pricing


How To Buy & Sell Foreclosures Guide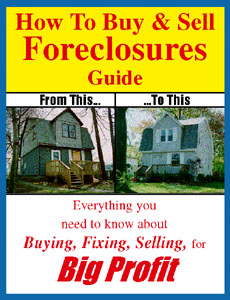 The How to Buy & Sell Foreclosures Guide teaches you everything you've always wanted to know about buying, renovating and selling foreclosure homes. You'll learn everything from "How to find the right property for you" to "How to save money on closing fees."
This book is co-written by Craig Laube and Joyce Aponte who are among the most well respected pioneers in the foreclosure industry. The "Guide" promises to answer every question you have (and some you may not even have thought of) about foreclosure homes, properties, bank, government and VA foreclosure listings.

ORDER NOW



Pre-foreclosure records filed in New Jersey updated daily.
visit site

---

Pre-foreclosure records filed in Philadelphia, PA updated weekly.
visit site